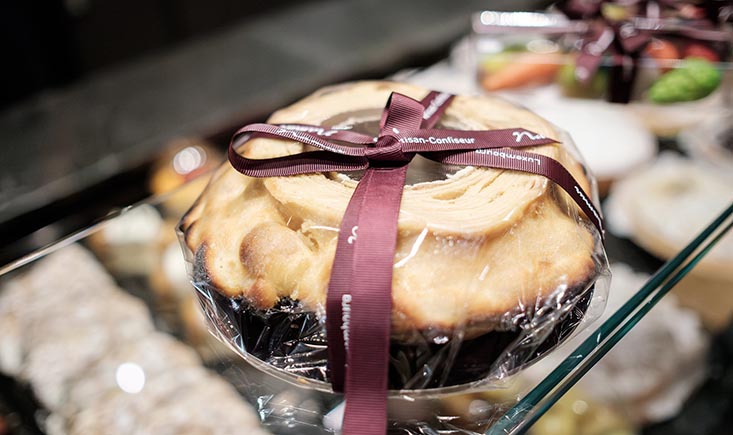 Written by Simon on 05/09/2023
Savoring Luxembourg: Exploring the Unique Flavors of the Grand Duchy
Food
Nestled in the heart of Europe, Luxembourg is a country often overlooked by travelers in favor of its larger, more renowned neighbors. But beneath its modest size lies a treasure trove of culture, history, and natural beauty waiting to be explored.
This enchanting Grand Duchy, with its picturesque villages, rolling hills, and vibrant cities, beckons visitors with a unique blend of tradition and modernity. From the charming cobbled streets of Luxembourg City to the tranquil beauty of the Ardennes Forest, each corner of this small nation offers a glimpse into its rich heritage and contemporary charm.
Join me on a captivating adventure through Luxembourg, as we delve into its diverse landscapes, uncover its captivating history, and savor its distinctive cuisine. Let's unravel the mysteries of this underrated European gem and discover why Luxembourg deserves a place on every traveler's list.
Each destination has offered a distinct and tantalizing array of flavors, but Luxembourg holds a special place in my gastronomic journey. This small European country, often overshadowed by its neighbors, boasts a culinary scene that is both diverse and delicious. Join me on a delectable journey as we explore the unique tastes and dishes that define the gastronomy of Luxembourg.
A Culinary Melting Pot
Luxembourg's cuisine is a delightful reflection of its history and geography. Nestled between France, Germany, and Belgium, the Grand Duchy has absorbed culinary influences from its neighbors while adding its own unique twist. You'll encounter a delectable fusion of French finesse, German heartiness, and Belgian creativity.
During my culinary journey through Luxembourg, I was struck by how seamlessly these influences came together on a single plate. It's as if Luxembourg said, "Why choose one when you can have it all?" The result is a gastronomic experience that celebrates diversity, and each bite tells a story of the country's rich history.
Local Delicacies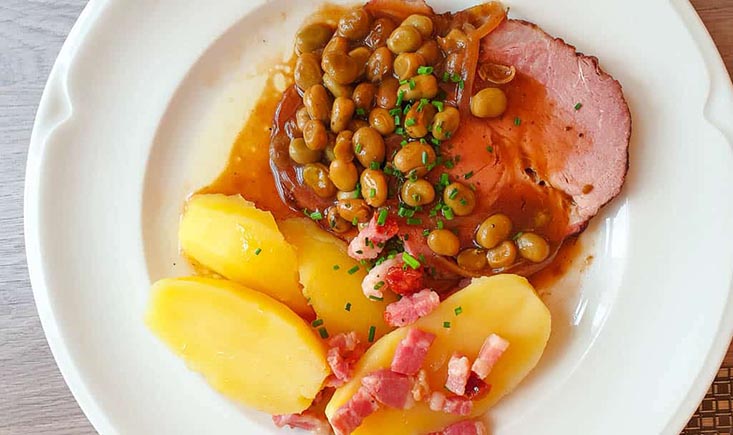 One cannot truly experience Luxembourg's cuisine without savoring some of its local delicacies. From hearty stews to delectable pastries, Luxembourg's traditional dishes are a testament to its rich culinary heritage.
One dish that I couldn't wait to try was "Judd mat Gaardebounen." This beloved national dish consists of smoked pork collar served with broad beans. The tender, smoky meat paired with the creamy beans is a comforting and flavorful combination that has stood the test of time. It's a bit like a warm hug on a plate, perfect for those chilly Luxembourg evenings.
Luxembourg's Culinary Icons
My culinary adventure in Luxembourg began with a dish that is nothing short of iconic: "Judd mat Gaardebounen." After hearing locals praise it as the country's national dish, I knew I had to give it a try. I found a cozy restaurant in Luxembourg City, where the dish was prominently featured on the menu.
As I took my first bite, I was greeted by the rich smokiness of the pork collar. It was a flavor unlike any other—a beautiful marriage of smokiness and tenderness. The broad beans, served in a creamy sauce, provided a wonderful contrast. The dish felt like a celebration of Luxembourg's rural traditions, and I couldn't help but appreciate the history behind it.
Rieslingspaschtéit
Another Luxembourgish delight that I couldn't resist was "Rieslingspaschtéit." Often described as Luxembourg's answer to the French pâté, this savory pie exceeded all my expectations. I found a charming patisserie in a quiet corner of Luxembourg City, and their "Rieslingspaschtéit" was a revelation.
The pie's flaky pastry shell gave way to a succulent filling of minced pork marinated in Luxembourg's renowned Riesling wine. The flavors were harmonious, and the wine's acidity cut through the richness of the meat, creating a perfectly balanced bite. It was a reminder of how Luxembourgish cuisine embraces the country's wine culture, and I couldn't resist pairing it with a glass of local Riesling.
Gromperekichelcher
One sunny afternoon, I decided to explore Luxembourg's charming street markets, where vendors offered a myriad of local treats. Among the stalls, I stumbled upon a favorite Luxembourgish snack, "Gromperekichelcher."
These golden potato fritters, seasoned with just the right amount of herbs and spices, were being freshly fried right before my eyes. The aroma was irresistible, and I eagerly ordered a serving. The first bite was a revelation—the outside was crispy, giving way to a soft and flavorful interior. They were often served with a dollop of applesauce, adding a hint of sweetness that complemented the savory fritters perfectly. It was a delightful snack that captured the essence of Luxembourg's street food culture.
Luxembourg's Culinary Surprises
Luxembourg may be small, but it boasts a flourishing wine culture. The country's wine regions, particularly in the Moselle Valley, are known for producing high-quality wines, including crisp and aromatic whites.
During my visit, I had the pleasure of touring a local vineyard, where I learned about Luxembourg's winemaking traditions. The vineyards, with their orderly rows of vines overlooking the Moselle River, painted a picturesque scene. I was particularly intrigued by Luxembourg's "Crémant," a sparkling wine that rivals the finest champagnes. It was the perfect companion to many of my Luxembourgish meals, adding a touch of effervescence to the dining experience.
Kachkéis
While exploring Luxembourg's charming villages, I discovered another culinary gem—Kachkéis. This Luxembourgish cheese spread is a beloved accompaniment to fresh bread or crackers. Locals enjoy it with a dash of paprika, giving it a slight kick.
I tried Kachkéis at a cozy café in Echternach, where it was served as part of a cheese platter. The creamy, slightly tangy spread was a delightful surprise. Spread on a piece of crusty bread, it became an instant favorite of mine. It was a reminder that Luxembourg's culinary treasures aren't limited to elaborate dishes; sometimes, it's the simplest pleasures that leave a lasting impression.
Luxembourg's International Flair
For travelers seeking a fine dining experience in Luxembourg, the country offers a surprising number of Michelin-starred restaurants. Despite its small size, Luxembourg boasts culinary excellence that rivals larger European cities.
One evening, I had the privilege of dining at a Michelin-starred restaurant in Luxembourg City. The tasting menu was a gastronomic journey through Luxembourg's flavors, with each course carefully crafted to showcase local ingredients. From delicate amuse-bouches to artfully plated desserts, the experience was a symphony of taste and presentation.
What struck me most was the chef's commitment to using regional produce, highlighting the best Luxembourg has to offer. It was a testament to the country's dedication to culinary excellence and innovation.
International Influences
Luxembourg's international population brings a vibrant mix of cuisines to the country's culinary landscape. In the heart of Luxembourg City, I discovered a bustling district known as "Limpertsberg," where international flavors take center stage.
I found a cozy Ethiopian restaurant where injera bread, savory stews, and aromatic spices transported me to the Horn of Africa. Nearby, a Vietnamese eatery offered fresh spring rolls and fragrant pho. Luxembourg's multicultural dining scene is a testament to its global connections, making it a paradise for food enthusiasts looking to explore diverse tastes.
Embracing Tradition and Innovation
My visit to Luxembourg coincided with a food festival in the charming town of Vianden. The streets were lined with stalls offering a wide variety of local and international delicacies. From Luxembourgish sausages to French crepes and Belgian chocolates, the festival celebrated the country's culinary diversity.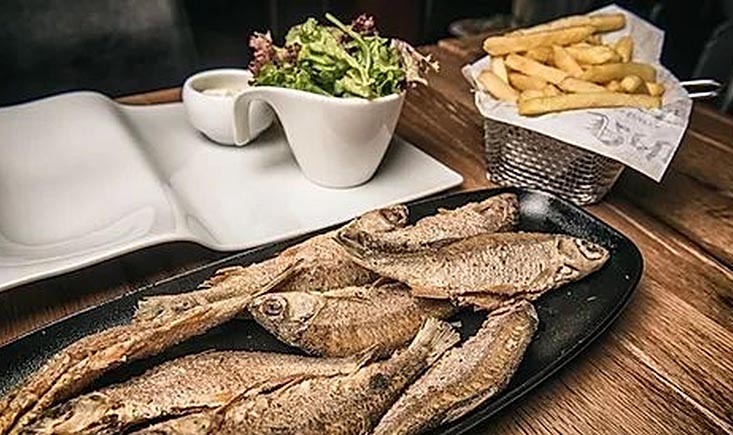 I had the opportunity to taste "F'rell am Rèisleck," a classic Luxembourgish dish of trout in a creamy Riesling sauce. It was cooked to perfection, and the sauce's velvety texture was a testament to the country's culinary finesse.
Innovative Dining Experiences
Luxembourg's dining scene isn't just about tradition—it's also about innovation. I dined at a restaurant in Luxembourg City that blended modern cooking techniques with traditional flavors. Molecular gastronomy took center stage as dishes were deconstructed and reimagined.
One dish that left a lasting impression was a deconstructed "Bouneschlupp," a traditional Luxembourgish green bean soup. The ingredients were transformed into foam, spheres, and gels, creating a playful and unexpected culinary experience. It was a reminder that Luxembourg's chefs are pushing boundaries and redefining the country's culinary landscape.
A Culinary Journey to Remember
My culinary journey through Luxembourg was a delightful exploration of flavors, traditions, and innovations. From hearty national dishes to international influences and Michelin-starred excellence, Luxembourg's culinary scene proved to be as diverse as it was delicious.
As I reflected on my time in this small but gastronomically rich country, I couldn't help but be captivated by its dedication to preserving culinary traditions while embracing global influences. Luxembourg's cuisine is a testament to the country's openness to the world—a place where flavors and cultures come together to create something truly special.
So, whether you're savoring a steaming bowl of "Judd mat Gaardebounen" in a cozy Luxembourgish café or indulging in Michelin-starred creations in the heart of Luxembourg City, I hope you'll embark on your own culinary journey through this hidden gem of European cuisine. Luxembourg is a place where every meal tells a story, and every bite is a discovery waiting to be made.
My journey through this small but gastronomically rich country was a testament to its dedication to preserving its culinary heritage while embracing global flavors.
From iconic dishes like "Judd mat Gaardebounen" and "Rieslingspaschtéit" to the simplicity of "Gromperekichelcher" and the sophistication of Michelin-starred restaurants, Luxembourg's cuisine offers a diverse range of tastes and experiences. It's a place where the past meets the present, and where every meal tells a story.
As you plan your own culinary adventure in Luxembourg, I encourage you to explore the charming local eateries, indulge in international flavors, and savor the creativity of Luxembourgish chefs. Whether you're sipping Crémant in a vineyard overlooking the Moselle or enjoying a deconstructed Luxembourgish classic in a modern restaurant, Luxembourg's culinary treasures are sure to leave a lasting impression.
You may also like