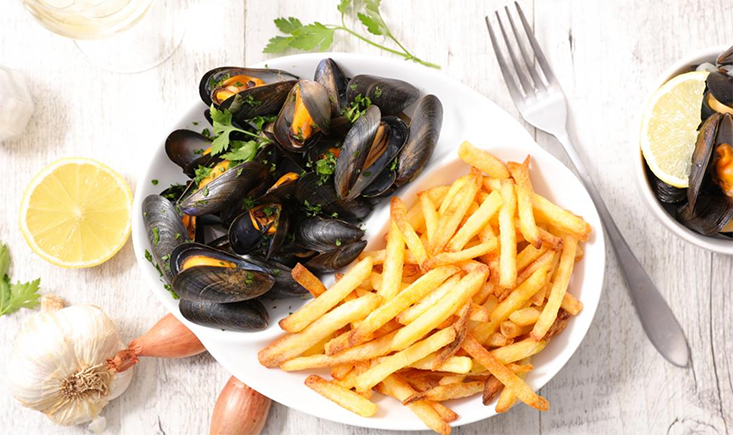 Written by Simon on 12/10/2023
Lille Gastronomy: Unforgettable French Delights
Food
Lille, a city in northern France, has always fascinated me with its rich history, vibrant culture, and, of course, its delectable cuisine. It's a city where history and artistry blend seamlessly to create a culinary experience that's both soul-satisfying and awe-inspiring. Join me on a gastronomic journey through Lille as we explore the must-try French delicacies, hidden food gems, and the vibrant food culture of this charming city.
Lille's Culinary Identity
Lille's culinary identity is a captivating blend of history, regional specialties, and the art of French cooking. The city's location, nestled near the Belgian border, has resulted in a fusion of French and Flemish influences that make its cuisine unique.
When I first arrived in Lille, I was struck by the city's undeniable charm. The cobbled streets, historic architecture, and lively atmosphere create the perfect backdrop for a culinary adventure. It's a place where traditions run deep, and each meal is a celebration of flavors, textures, and history.
Waffles and Pancakes Galore
Lille is famous for its gaufres (waffles) and crêpes, and one of the best places to start your culinary journey is at a local crêperie. One such gem is "La Crêperie de Léon," where I had my first taste of an authentic Lillois crêpe.
The menu was a delightful mix of sweet and savory options. I couldn't resist trying the classic crêpe with Nutella and strawberries, which was a heavenly combination of warm, gooey chocolate and fresh fruit. For something more savory, I opted for a crêpe filled with ham, cheese, and a perfectly fried egg. The flavors melded together beautifully, and I was instantly transported to a world of culinary bliss.
Flanders on a Plate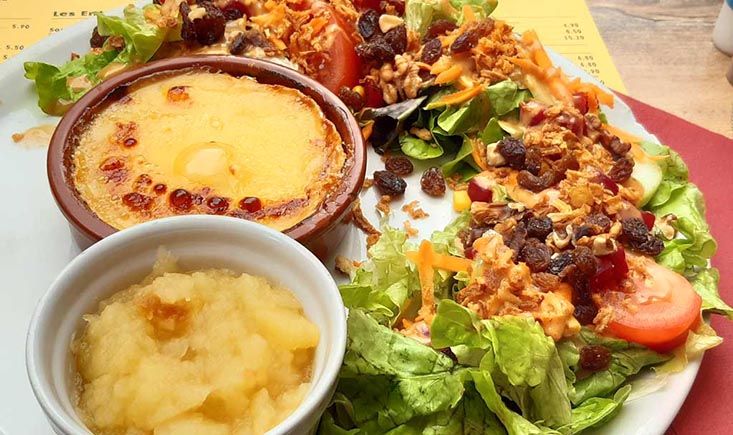 One of the highlights of Lille's cuisine is its connection to Flanders, a region known for its hearty and flavorful dishes. I had the pleasure of trying carbonnade flamande, a beloved Flemish stew made with beer, beef, and onions. The tender meat and rich, malty sauce were a testament to the art of slow cooking.
Another Flemish classic I couldn't resist was waterzooi, a creamy chicken or fish stew. I opted for the fish version, and the tender pieces of fish were enveloped in a velvety broth, flavored with aromatic herbs. It was a comforting dish that warmed both my body and soul.
Lille's Cheese Culture
No exploration of French cuisine is complete without a journey into the world of cheese. Lille boasts fromageries that showcase the finest cheeses of the region. One such fromagerie I visited was "Les Frères Delassic," a family-owned shop that has been serving cheese enthusiasts for generations.
Walking into the fromagerie was like stepping into a cheese lover's paradise. The shelves were lined with a stunning variety of cheeses, from creamy camemberts to pungent blues. The knowledgeable cheesemonger guided me through the selection, explaining the origins and flavors of each cheese. I left with a selection of cheeses, including the renowned Maroilles, which became a staple in my Lille-inspired meals.
Lille's Food Markets
To truly experience Lille's culinary culture, you must visit its food markets. The city is home to several vibrant markets where locals gather to buy fresh produce, artisanal products, and local delicacies. My favorite was the Wazemmes Market, a bustling and colorful affair that offered a sensory overload of sights, sounds, and aromas.
Navigating the market, I couldn't help but be drawn to the stalls selling ripe, juicy fruits, fragrant herbs, and artisanal cheeses. I sampled some of the region's famed charcuterie, including saucisson sec and duck rillettes. It was a delightful experience to interact with local producers and learn about the ingredients that define Lillois cuisine.
Pâtisseries and Bakeries
Lille's love for pastries and bread is evident in its pâtisseries and bakeries. One bakery that stole my heart was "Au Levain du Marais," a charming establishment known for its artisanal bread and pastries.
The moment I entered the bakery, the aroma of freshly baked bread enveloped me. The shelves were lined with a tempting array of baguettes, boules, and pain d'épi. I couldn't resist trying their pain au chocolat, a buttery, flaky pastry filled with rich, dark chocolate. Each bite was a symphony of textures, with the crisp layers of pastry giving way to the luscious chocolate within.
Lille's Iconic Dishes
Lille has its share of iconic dishes that are beloved by locals and visitors alike. One such dish is potjevleesch, a traditional Flemish terrine made with various meats, including chicken, rabbit, and pork.
I had the pleasure of trying potjevleesch at a local brasserie, and the dish arrived beautifully presented in a terracotta pot. The meats were tender and flavorful, bathed in a savory jelly that had absorbed the essence of the herbs and spices. It was a dish that spoke of Lille's rich culinary heritage.
Another iconic Lillois creation is Welsh rarebit, a hearty dish featuring toast topped with a savory cheese sauce and often served with bacon. The combination of gooey cheese and crispy bacon was a delightful indulgence that left me craving more.
Sip Like a Local: Beer and Jenever
Lille's culinary journey isn't limited to food; it extends to beverages as well. The city has a vibrant beer culture, thanks in part to its proximity to Belgium. I couldn't resist sampling some of the local brews, including the iconic Bière de Garde.
One evening, I found myself at "L'Estaminet," a cozy tavern with a wide selection of regional beers. I opted for a Bière de Garde, a traditional French farmhouse ale with a slightly fruity and earthy flavor profile. It was a refreshing choice that paired beautifully with the hearty Lillois dishes.
In addition to beer, Lille has a connection to jenever, a Belgian and Dutch spirit similar to gin. I tried a glass of jenever at "Le Barbue d'Anvers," a charming bar with an extensive selection of this classic spirit. The jenever was served in a tulip-shaped glass, and I savored its juniper-infused goodness.
Lille's Michelin-Starred Restaurants
For those seeking the pinnacle of gastronomy, Lille boasts Michelin-starred restaurants that offer exquisite tasting menus. I had the pleasure of dining at "La Table de Marc Meurin," a two-star Michelin restaurant that's a testament to the city's culinary excellence.
The restaurant's ambiance was elegant yet inviting, with warm lighting and contemporary décor. The tasting menu showcased the chef's creativity and mastery of flavors. Each course was a work of art, from the amuse-bouche to the dessert. Highlights included a delicate foie gras terrine, perfectly seared scallops, and a dessert that combined chocolate, caramel, and hazelnuts in a symphony of sweetness.
Hidden Food Gems
While Michelin-starred restaurants offer a taste of haute cuisine, Lille is also home to hidden food gems that provide authentic and soul-satisfying meals. One such gem is "Le Bloempot," a rustic bistro that celebrates the flavors of the region.
Walking into Le Bloempot felt like stepping into a cozy farmhouse kitchen. The menu featured dishes made with locally sourced ingredients and a commitment to showcasing Lille's culinary heritage. I savored a bowl of carbonnade flamande, which was a testament to the comforting power of slow-cooked beef and beer.
Another hidden gem was "Chez la Vieille," a family-owned restaurant known for its generous portions and warm hospitality. The menu was a celebration of traditional Lillois dishes, and I indulged in a plate of waterzooi, which was the epitome of creamy goodness.
A Culinary Walking Tour
One of the best ways to explore Lille's food scene is through a culinary walking tour. I joined a guided tour that promised to take me on a journey through the city's culinary highlights, and it didn't disappoint.
Our first stop was a local bakery where we sampled fresh baguettes and croissants. The buttery layers of the croissant melted in my mouth, setting the tone for the culinary adventure ahead.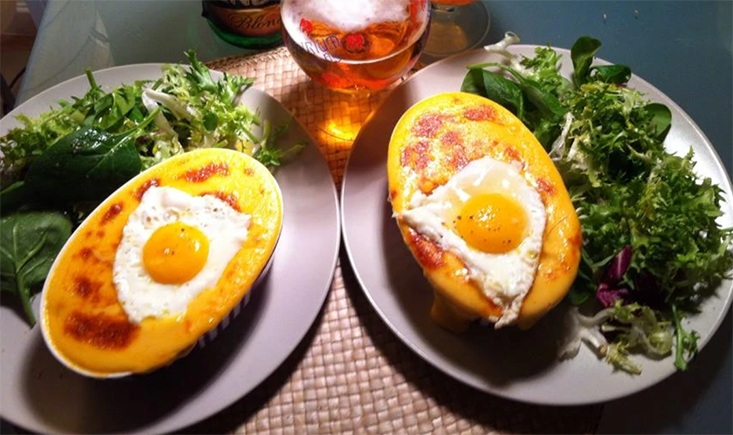 We then visited a fromagerie, where the cheesemonger introduced us to the world of French cheese. I was particularly intrigued by Maroilles, a pungent cheese with a strong aroma and a bold flavor. It paired wonderfully with a glass of red wine.
The tour also included a visit to a charcuterie, where we tried saucisson sec and pâté. Each bite was a testament to the craftsmanship of French charcutiers.
We ended our tour at a local bistro, where we enjoyed potjevleesch and Welsh rarebit. It was a fitting conclusion to a day filled with culinary discoveries.
Food Festivals and Events
Lille is a city that loves to celebrate its culinary traditions, and one of the best ways to experience this is by attending food festivals and events. During my visit, I had the opportunity to be a part of the Braderie de Lille, a massive flea market that transforms into a food lover's paradise.
The streets were lined with food stalls offering a wide range of delights. I couldn't resist trying moules-frites, a classic dish of mussels and fries. The mussels were plump and juicy, cooked in a flavorful broth that begged to be soaked up with crispy fries.
Another festival I attended was the Salon du Chocolat, a chocolate lover's dream. The event featured chocolatiers from across France, showcasing their finest creations. I indulged in artisanal chocolates, truffles, and pralines, each a testament to the artistry of chocolate making.
Beyond Lille: Regional Culinary Escapes
While Lille offers a treasure trove of culinary delights, the surrounding region of Hauts-de-France is equally enchanting for food enthusiasts. I embarked on day trips to nearby towns and villages, each renowned for its gastronomy.
One such excursion took me to the charming town of Lens, where I visited a local brasserie and tried the iconic Potjevleesch. The dish was served with a side of crispy frites, and I relished every bite while enjoying the picturesque surroundings.
In the town of Saint-Omer, I explored its historic streets before stopping at a boulangerie to savor a traditional tarte au sucre, a sweet pastry adorned with sugar and butter. It was a simple yet sublime treat that showcased the region's baking prowess.
Cooking Classes and Workshops
For travelers who want to take a piece of Lille's culinary magic home with them, cooking classes and workshops are a great option. I enrolled in a cooking class that focused on preparing a classic Lillois dish: moules-frites.
The class began with a visit to a local market, where we selected fresh mussels and learned to identify the best ingredients for our meal. Back in the kitchen, we were guided through the process of cleaning, cooking, and serving the mussels. It was a hands-on experience that deepened my appreciation for the simplicity and elegance of Lillois cuisine.
Lille's Sweet Endings
No culinary journey is complete without a sweet ending, and Lille offers an array of delectable desserts and pastries. One of my favorite discoveries was the gaufre fourrée, a stuffed waffle filled with cream, chocolate, or fruit.
I also indulged in Lille's take on the macaron, known as the merveilleux. These delicate meringue-based sweets were covered in whipped cream and chocolate shavings, creating a delightful contrast of textures and flavors.
My culinary journey through Lille was a testament to the city's love for food, tradition, and artistry. From savory stews to sweet pastries, Lille's gastronomy left an indelible mark on my taste buds and my heart.
As I bid farewell to this charming city, I carried with me not just the flavors and recipes of Lille but also a deeper appreciation for the role of food in preserving cultural heritage and creating unforgettable experiences. Lille isn't just a destination; it's a culinary love affair waiting to be savored and cherished.
So, to all fellow travelers and food enthusiasts, I say this: Make Lille your next culinary adventure. Explore its markets, savor its dishes, and immerse yourself in a world where every bite tells a story. Lille's culinary treasures are waiting for you to discover, and they promise an experience that will leave you hungry for more.
You may also like