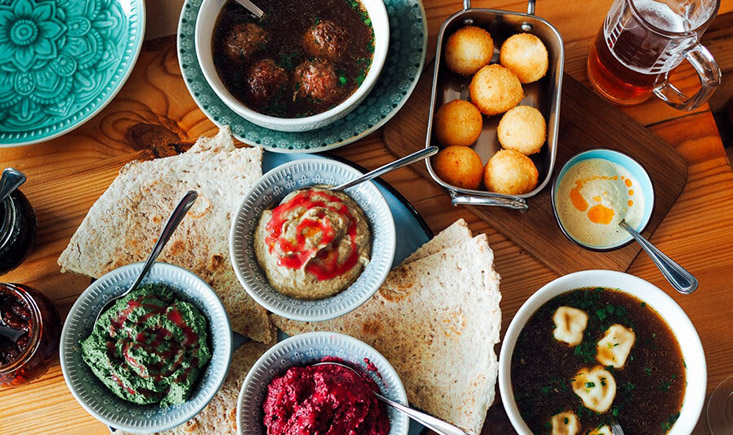 Written by Simon on 10/05/2023
Culinary Adventure: Exploring Tbilisi's Unique Local Street Food
Food
Tbilisi, the vibrant capital of Georgia, is a city of captivating contrasts, where ancient history meets modern innovation, and this diversity is beautifully reflected in its culinary scene.
Khachapuri: A Symbol of Georgian Hospitality
The journey begins with khachapuri, a traditional Georgian cheese bread that has become an international favorite. Picture a boat-shaped bread filled with a melty mixture of cheese, butter, and eggs, baked to perfection until golden brown. But khachapuri isn't just a culinary delight; it's a symbol of Georgian hospitality and warmth, often shared among friends and family.
Lobiani: Embracing the Bean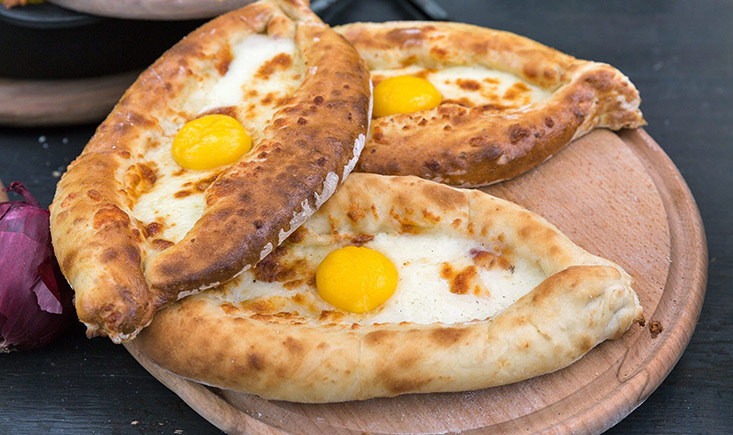 For a taste of comfort, lobiani is a must-try. These bean-filled pastries are prepared with a savory dough that encases a flavorful mixture of mashed beans, onions, and aromatic herbs. It's a nod to Georgia's agricultural heritage and a simple yet satisfying snack enjoyed by locals and visitors alike.
Churchkhela: Nature's Energy Bar
While exploring Tbilisi's bustling streets, you'll likely come across churchkhela—unique "candies" made from strings of nuts dipped in a mixture of grape juice and flour, then dried. This nutritious treat, often called "Georgian snickers," offers sustenance for your adventures while paying homage to the country's agricultural roots.
Khinkali: Dumplings with Character
Your culinary adventure wouldn't be complete without khinkali, Georgian dumplings that are a true work of art. These handcrafted delights are stuffed with minced meat, herbs, and spices, often enjoyed with a dash of black pepper. The special technique of eating them—with a juicy bite and a twist—adds an element of playfulness to the experience.
Shawarma: A Global Fusion
While not native to Georgia, shawarma has found its place in Tbilisi's diverse food culture. Influenced by Middle Eastern cuisine, shawarma offers a tantalizing blend of marinated meat, fresh veggies, and flavorful sauces wrapped in soft flatbread. It's a testament to Tbilisi's openness to global gastronomy.
Puri: The Bread of Life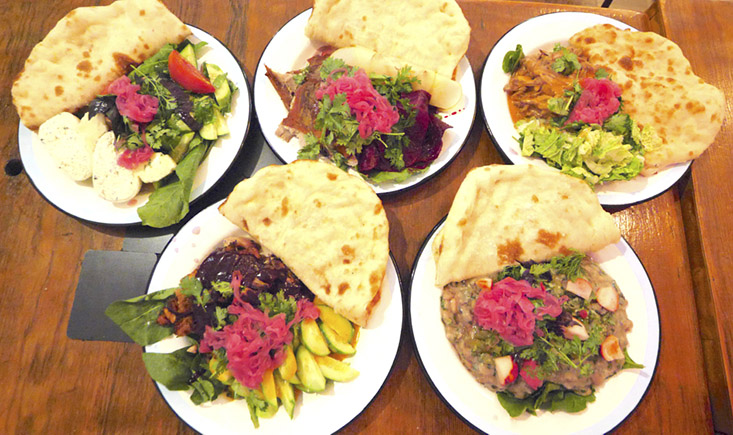 In Tbilisi, freshly baked bread, or "puri," is an integral part of daily life. The sight and smell of warm, doughy loaves emerging from local bakeries create an inviting atmosphere. Puri serves as a versatile companion to every meal, whether paired with cheese, dipped in sauces, or simply enjoyed on its own.
Satisfy Your Sweet Tooth
Indulge in Tbilisi's array of sweet offerings, including the iconic churchkhela—stringed nuts dipped in grape juice and dried. Don't miss the baklava, layers of flaky pastry filled with nuts and honey. And for something truly Georgian, try gozinaki, a delicious candy made from nuts and honey that's both crunchy and sweet.
As your culinary adventure through Tbilisi's unique local street food comes to an end, you'll carry with you more than just a satisfied palate. You'll leave with a deeper appreciation for the city's history, culture, and people, as well as a sense of connection to the streets you've walked and the flavors you've savored. From the iconic khachapuri to the traditional churchkhela, each dish tells a story—a story of a city that welcomes you with open arms and invites you to explore its culinary treasures.
You may also like