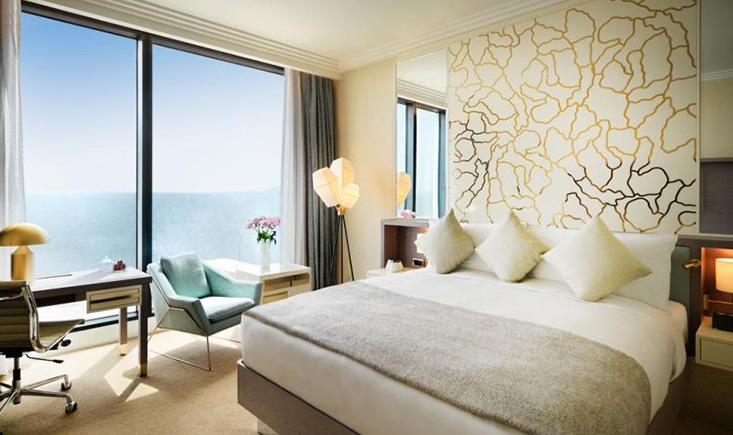 Written by Simon on 05/04/2023
Luxurious Stay Experience: Recommendations for 5-Star Hotels in Baku
Find Hotels
Baku, the cosmopolitan capital of Azerbaijan, is renowned for its opulence and grandeur, and this extends to its luxury accommodations. Whether you're visiting for business or leisure, a stay in a 5-star hotel in Baku promises an unforgettable experience of comfort, sophistication, and impeccable service.
Fairmont Baku, Flame Towers
Location: 1A Mehdi Huseyn Street, Baku, Azerbaijan
Nestled within the iconic Flame Towers complex, the Fairmont Baku offers a truly unparalleled experience. As you step into the hotel's elegant lobby, you'll immediately sense the blend of luxury and contemporary design. The spacious rooms and suites offer modern amenities and breathtaking views of either the Caspian Sea or the city's skyline.
The hotel's dining options cater to a variety of tastes, with international and Azerbaijani cuisine served in elegant settings. The Fairmont Spa invites you to indulge in relaxation, featuring a range of treatments and an indoor pool. The unique architectural design of the Flame Towers itself is a visual delight, and the hotel's location provides easy access to key attractions.
Four Seasons Hotel Baku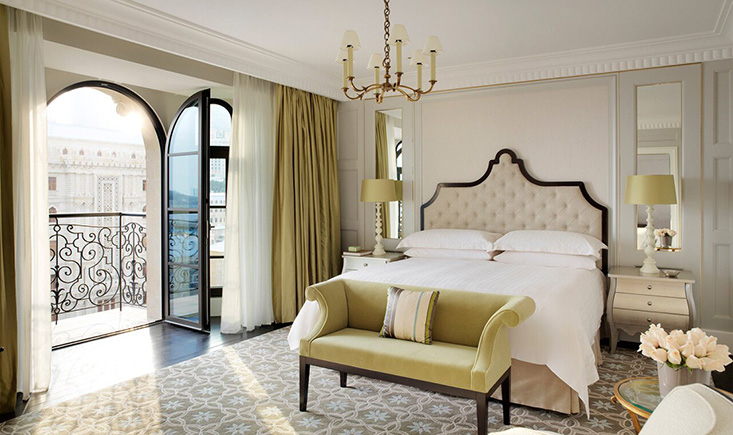 Location: 1 Neftchilar Avenue, Baku, Azerbaijan
The Four Seasons Hotel Baku sets a new standard for luxury in the heart of the city. From its meticulously designed interiors to its world-class service, every aspect of the hotel exudes opulence. The rooms and suites are elegantly appointed, providing a comfortable and stylish retreat.
On the rooftop terrace, you can savor panoramic views of the Caspian Sea while enjoying gourmet dining at the hotel's restaurants. The spa is a haven of relaxation, offering a range of treatments and wellness facilities. With its central location, the hotel allows easy exploration of nearby attractions such as the Old City and the waterfront boulevard.
Jumeirah Bilgah Beach Hotel
Location: 94 Gelebe Street, Baku, Azerbaijan
For those seeking a blend of beachfront tranquility and urban luxury, the Jumeirah Bilgah Beach Hotel offers a serene retreat. Set against the backdrop of the Caspian Sea, this hotel boasts private beaches, lush gardens, and luxurious accommodations.
From elegantly designed rooms to spacious suites, the hotel's accommodations ensure a comfortable and enjoyable stay. The hotel's array of restaurants cater to various culinary preferences, offering a diverse range of dishes. As a bonus, the expansive outdoor pool area is perfect for relaxation and leisure.
JW Marriott Absheron Baku
Location: 674 Azadliq Square, Baku, Azerbaijan
The JW Marriott Absheron Baku seamlessly blends modern luxury with local charm. Its central location makes it an ideal starting point for exploring the city's attractions. The hotel's contemporary rooms and suites feature stylish decor and all the amenities you would expect from a 5-star property.
The hotel offers an array of dining options, including a steakhouse and a rooftop lounge with panoramic views. The fitness center and spa provide opportunities for relaxation and rejuvenation. Additionally, the hotel's proximity to landmarks like the National Flag Square and the Carpet Museum adds to its allure.
Hilton Baku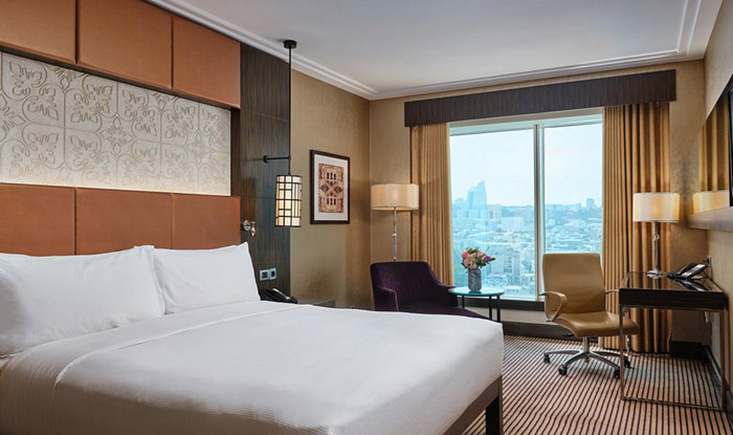 Location: 1B Azadlig Avenue, Baku, Azerbaijan
Overlooking the Caspian Sea, the Hilton Baku is an iconic hotel that offers a blend of modern luxury and breathtaking views. The spacious rooms and suites are designed for comfort and relaxation, featuring modern amenities and elegant furnishings.
The hotel's rooftop bar provides a unique vantage point to enjoy the city's skyline, and the spa offers a range of treatments to unwind after a day of exploration. With its prime location, you can easily access attractions such as the Fountain Square and the Palace of the Shirvanshahs.
Booking Your Luxury Stay: Platform Recommendations
When it comes to booking your stay at these lavish 5-star hotels in Baku, several platforms offer convenient options:
Hotel Websites: Most of these hotels have official websites where you can book directly. This often provides access to special offers and loyalty programs.
Online Travel Agencies (OTAs): Platforms like Expedia, Booking.com, and Hotels.com offer comprehensive listings, user reviews, and competitive rates for luxury accommodations.
Loyalty Programs: Consider enrolling in the loyalty programs of hotel chains like Marriott Bonvoy, Hilton Honors, or Accor Live Limitless for exclusive benefits and rewards.
Travel Agencies: Consult with travel agencies that specialize in luxury travel to assist you in finding the perfect 5-star hotel that suits your preferences and budget.
A luxurious stay in one of Baku's 5-star hotels promises an exquisite blend of comfort, elegance, and impeccable service. With stunning views, lavish amenities, and convenient access to the city's attractions, each of these hotels offers a unique experience that will make your visit to Baku truly unforgettable. Remember to explore different booking platforms and options to ensure you secure the best deal for your opulent stay in this vibrant and fascinating city.
You may also like