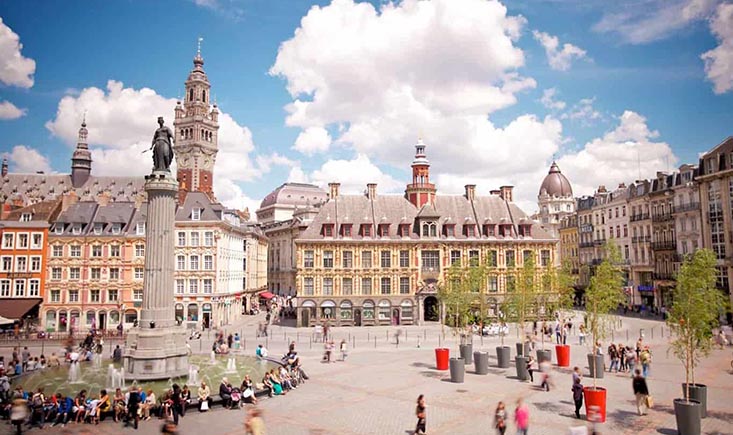 Written by Simon on 29/09/2023
Must-Visit Attractions in Lille: A Journey Through History and Art
Destinations
Lille boasts a rich tapestry of history and art, making it an ideal destination for history buffs and art aficionados alike. Join me on a virtual tour of Lille's must-visit attractions as we delve into its captivating past and vibrant art scene.
The Grand Place: A Historical Gem
Our journey begins in the heart of Lille at the Grand Place, a stunning square surrounded by picturesque Flemish-style architecture. This historic square dates back to the 17th century and is home to some of the city's most iconic buildings. As I stood in awe of the ornate facades and intricate details of the Vieille Bourse (Old Stock Exchange), I couldn't help but feel transported back in time.
The Grand Place is undoubtedly one of Lille's highlights, a testament to the city's rich history and architectural splendor. It's not just a place to admire from the outside; it's also a hub of activity. During my visit, I was lucky enough to witness a bustling market in full swing. Vendors displayed colorful flowers, fresh produce, and local specialties, creating a vibrant atmosphere that's a testament to the city's lively spirit.
While you're at the Grand Place, be sure to explore the Vieille Bourse, the former stock exchange building. Its courtyard is a haven for book lovers, with booksellers lining the perimeter, offering everything from rare volumes to contemporary bestsellers. It's a charming spot to immerse yourself in Lille's literary culture.
Palais des Beaux-Arts: The Art Lover's Paradise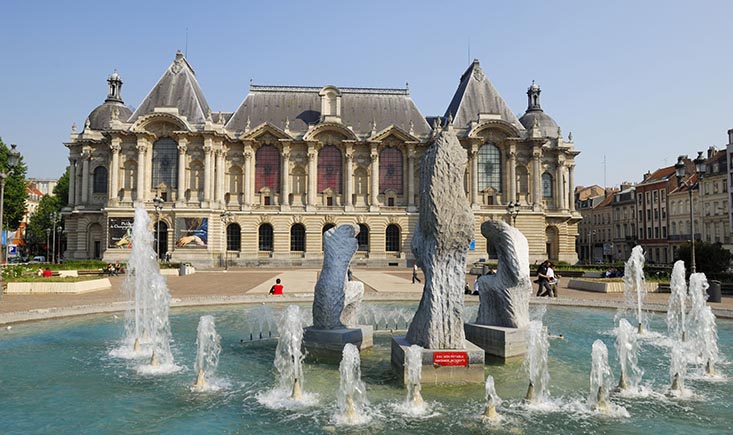 For art enthusiasts like me, a visit to the Palais des Beaux-Arts is an absolute must. This exquisite museum houses an impressive collection of European paintings, sculptures, and decorative arts spanning from Antiquity to the 19th century. Walking through its halls, I was captivated by masterpieces from renowned artists like Rubens, Rembrandt, and Delacroix. The museum's extensive collection offers a glimpse into the evolution of art over the centuries.
One of the most remarkable aspects of the Palais des Beaux-Arts is its ability to transport visitors through time and space. As I moved from room to room, I found myself in different eras and regions, from the grandeur of Renaissance Italy to the mystique of Ancient Egypt. Each section of the museum is thoughtfully curated, and the artworks are beautifully displayed. It's a place where you can lose yourself in the world of art, gaining a deeper appreciation for the creativity and talent of countless artists.
Cathedrale Notre-Dame de la Treille: A Modern Masterpiece
While Lille boasts a rich historical heritage, it also embraces modernity. The Cathedrale Notre-Dame de la Treille is a striking example of contemporary architecture seamlessly integrated with the city's historical fabric. Its unconventional design, with a mix of traditional and modern elements, creates a unique and captivating atmosphere inside. I recommend taking a moment of quiet reflection in this awe-inspiring space.
The Cathedrale Notre-Dame de la Treille is more than just a place of worship; it's a testament to the city's commitment to artistic innovation. As you approach the cathedral, you'll notice its intricate facade, adorned with sculptures that seem to come to life. The blend of Gothic and contemporary architecture is a testament to Lille's willingness to embrace the new while honoring its past.
Upon entering the cathedral, the play of light and shadow through the intricate stained glass windows creates a mesmerizing effect. It's a space that encourages contemplation and reverence, a respite from the bustling city just outside its doors. Whether you're interested in architecture, art, or simply seeking a moment of tranquility, the Cathedrale Notre-Dame de la Treille offers an unforgettable experience.
La Piscine – Musée d'Art et d'Industrie André Diligent: A Museum Like No Other
A short drive from the city center brought me to La Piscine, a museum housed in a former art deco swimming pool. This innovative concept seamlessly blends art and industrial heritage. As I strolled through the museum's eclectic collection, I marveled at how the pools' architecture had been repurposed to showcase sculptures, paintings, and decorative arts. It's a testament to Lille's commitment to preserving its past while embracing artistic innovation.
La Piscine is a museum that defies convention and invites visitors to appreciate art in a wholly unique setting. The combination of elegant art deco design and carefully curated artworks creates a sense of wonder. It's a place where you can admire sculptures while standing on the edge of what was once a swimming pool, a true fusion of art and history.
The museum's collection is diverse, featuring works by both local and international artists. From bronze statues to delicate porcelain, La Piscine offers a broad spectrum of artistic expression. It's a testament to Lille's dedication to promoting culture and creativity.
Vieux-Lille: Wandering Through Time
No visit to Lille would be complete without exploring the charming streets of Vieux-Lille (Old Lille). This historic district is a picturesque maze of cobblestone streets, timber-framed houses, and inviting cafes. As I wandered through the narrow alleys, I couldn't help but feel transported to a bygone era. Vieux-Lille is also known for its boutique shops and gourmet restaurants, making it an ideal place to savor local cuisine.
Vieux-Lille is a neighborhood that invites you to slow down and savor the simple pleasures of life. The architecture is a testament to the city's rich history, with charming houses that have stood the test of time. Each corner reveals a new discovery, from hidden courtyards to quaint boutiques.
One of the highlights of Vieux-Lille is the Place aux Oignons (Onion Square), a small square surrounded by colorful houses and lively cafes. It's a popular spot to relax with a coffee or enjoy a meal while people-watching. During my visit, I couldn't resist trying some local specialties, including the famous Welsh rarebit—a cheesy delight that's a must-try for any food lover.
While exploring Vieux-Lille, you'll also come across the stunning Église Saint-Maurice (Saint Maurice Church), a Gothic masterpiece that's worth a visit. Its intricate stained glass windows and majestic organ are a testament to the city's architectural heritage.
La Grande Braderie: A Festival of Culture and Tradition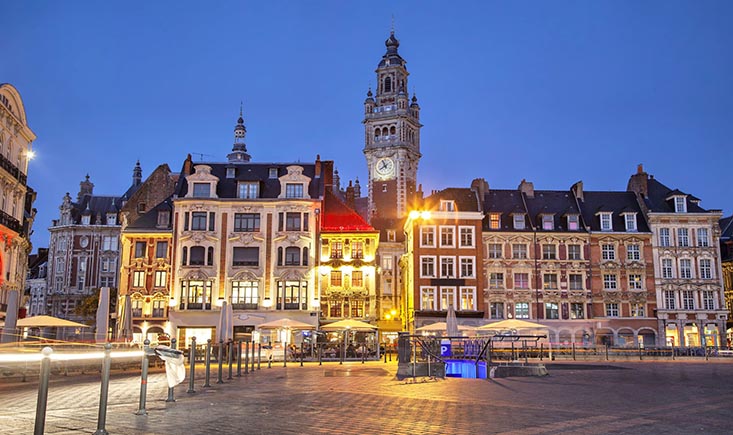 If your visit to Lille coincides with the first weekend in September, you're in for a treat. The city hosts La Grande Braderie, one of Europe's largest flea markets and a celebration of Lille's rich cultural heritage. Strolling through the bustling streets, I discovered antique treasures, enjoyed local delicacies like moules-frites (mussels and fries), and witnessed the warmth of the Lillois people.
La Grande Braderie is an event like no other, a lively celebration of Lille's culture and traditions. The streets come alive with a vibrant energy, as locals and visitors alike browse the countless stalls and enjoy street performances. It's a fantastic opportunity to immerse yourself in the local way of life and interact with friendly vendors.
The food stalls at La Grande Braderie are a culinary delight. From freshly cooked mussels to sweet waffles dusted with powdered sugar, there's a wide range of treats to sample. One of the highlights for me was trying the famous Lillois dish, "carbonade flamande," a hearty beef stew cooked with beer and served with crispy fries. It's comfort food at its finest and a taste of authentic Lille cuisine.
Citadelle de Lille: Fortress of History
Our journey through Lille's history would be incomplete without a visit to the Citadelle de Lille. Built by renowned military engineer Vauban in the 17th century, this well-preserved fortress provides insight into the city's strategic significance. As I explored the sprawling grounds, I admired the impressive fortifications and lush greenery that now grace this historical site.
The Citadelle de Lille is not just a monument; it's a living testament to the city's resilience and evolution over the centuries. The fortifications, moats, and bastions are a testament to Vauban's genius in military engineering. Walking along the ramparts, I could imagine the strategic importance of this site during times of conflict.
One of the unique aspects of the Citadelle de Lille is the presence of a zoo within its walls. The zoo is home to a variety of animals, making it an unexpected yet delightful addition to the historical site. As I strolled through the zoo, I appreciated the juxtaposition of history and nature, a reflection of Lille's ability to blend the old with the new.
Hospice Comtesse Museum: A Window to Medieval Lille
To truly understand Lille's history, a visit to the Hospice Comtesse Museum is essential. Housed in a former hospital founded in the 13th century, the museum offers a glimpse into medieval life in the city. Its collection of artifacts, tapestries, and artwork paints a vivid picture of Lille's past. Walking through the tranquil gardens, I couldn't help but appreciate the serenity that contrasts with the bustling city outside.
The Hospice Comtesse Museum is a hidden gem that provides insights into everyday life in medieval Lille. Its exhibits include beautifully preserved textiles, religious artifacts, and works of art that offer a glimpse into the city's cultural and historical heritage.
One of the museum's highlights is the pharmacy, which has been faithfully reconstructed to resemble its appearance in the 18th century. The rows of glass jars filled with herbs and remedies evoke a sense of nostalgia and curiosity. It's a place where you can step back in time and imagine the role of this pharmacy in healing the residents of medieval Lille.
Lille's blend of history and art creates a unique tapestry that beckons travelers to explore its streets and cultural treasures. From the grandeur of the Grand Place to the contemporary beauty of Cathedrale Notre-Dame de la Treille, this city offers a captivating journey through time and creativity. Whether you're an art lover, history buff, or simply seeking to immerse yourself in French culture, Lille has something remarkable to offer. My visit to this remarkable city left me with cherished memories and a deep appreciation for its rich heritage. I hope this virtual tour inspires you to embark on your own adventure in Lille and discover the magic of this historical and artistic gem in northern France.
You may also like