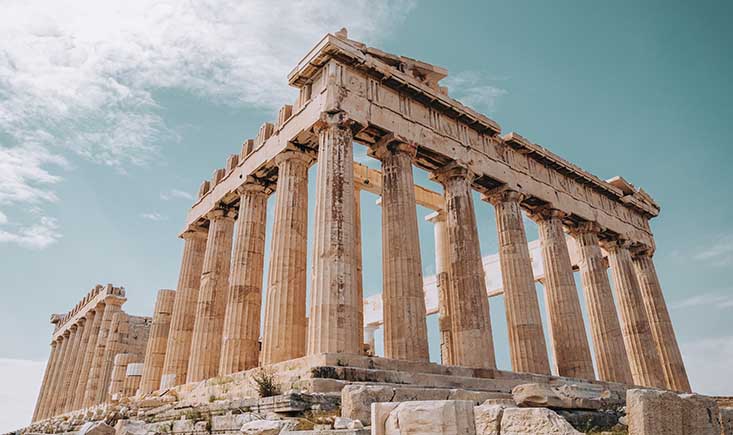 Written by Simon on 31/07/2023
Exploring Athens – A Fusion of History and Modernity
Destinations
Nestled in the heart of Greece, Athens stands as a living testament to the legacy of ancient civilizations while embracing the vitality of contemporary life. This unique blend of historical grandeur and modern energy makes Athens a captivating travel destination, offering an enriching experience that spans centuries.
Unveiling the Historic Splendors: A Journey through Time
Athens, often referred to as the "Cradle of Western Civilization," boasts a wealth of iconic historical sites that continue to captivate visitors from around the world. The Acropolis, a UNESCO World Heritage site, takes center stage with its majestic Parthenon—a breathtaking testament to ancient Greek architecture. As travelers ascend to the summit, they are rewarded with panoramic views of the city and a palpable connection to Greece's illustrious past.
Beyond the Acropolis, the Ancient Agora beckons with its ancient ruins and storied past. This bustling marketplace was once the heart of Athens, where philosophers engaged in discourse and citizens gathered to discuss matters of politics and culture. Today, visitors can wander through the remnants of temples and buildings that played a pivotal role in shaping Western thought.
The Acropolis: A Timeless Wonder
Standing as an emblem of ancient Greece's artistic and cultural achievements, the Acropolis offers a mesmerizing glimpse into the past. The Parthenon, with its Doric columns and intricate friezes, pays homage to the goddess Athena and serves as an architectural marvel that continues to inspire awe.
The Agora: A Historic Nexus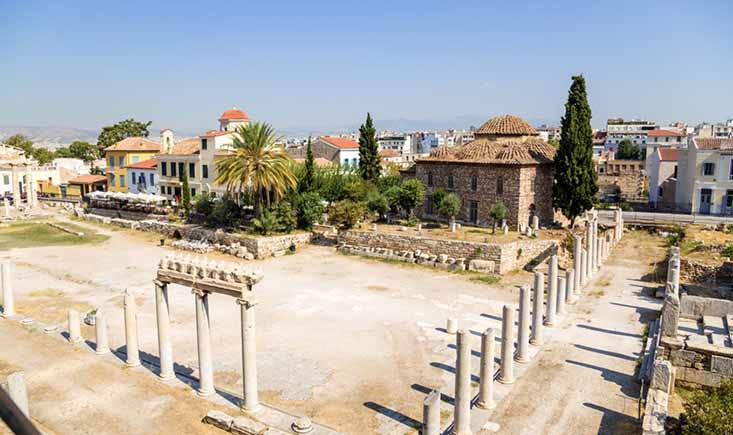 The Ancient Agora, a focal point of daily life in ancient Athens, provides a window into the past. Stroll through the Temple of Hephaestus, an impeccably preserved structure dedicated to the god of craftsmanship, and envision the vibrant marketplace that once thrived in this space.
Modern Marvels in a Historical Setting: Embracing the Present
While Athens is renowned for its historical sites, it is also a vibrant modern metropolis that seamlessly intertwines with its past. Syntagma Square, bordered by neoclassical buildings and the Greek Parliament, stands as a testament to the city's ability to harmoniously blend old and new.
Monastiraki: Where Past Meets Present
The neighborhood of Monastiraki encapsulates the essence of Athens' juxtaposition of the ancient and the contemporary. Here, historic landmarks like the Roman Agora coexist with bustling markets and charming alleys. Visitors can explore shops offering vintage finds, unique souvenirs, and an array of traditional Greek cuisine.
Culinary Delights: Savoring Athens' Gastronomic Tapestry
A journey through Athens is incomplete without indulging in its culinary offerings, which reflect the rich tapestry of Greek history and culture. From beloved classics to modern interpretations, the city's gastronomic scene is a feast for the senses.
Tavernas and Mezedes: A Feast of Tradition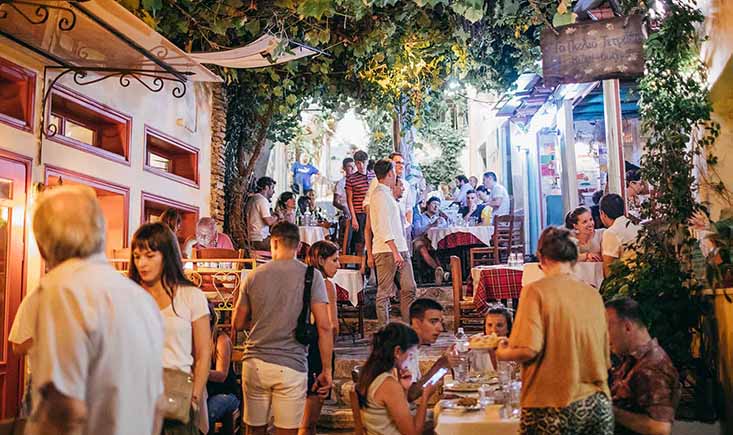 Tavernas, traditional Greek eateries, beckon with an array of authentic dishes. Indulge in moussaka, a layered casserole of eggplant and minced meat, drizzled with creamy béchamel sauce. Delight in mezedes, a selection of small plates perfect for sharing, offering a tantalizing array of flavors.
Street Food Adventures: An Authentic Experience
For a taste of Athens on the go, street food offers a window into everyday life. Sink your teeth into a gyro, a delectable concoction of tender meat, fresh vegetables, and tangy tzatziki sauce, all wrapped in warm pita bread. Embrace the simplicity and delight of a souvlaki skewer, a beloved street food staple.
Exploring Athens' Modern Culinary Scene: A Fusion of Flavors
Athens' culinary landscape extends beyond tradition, showcasing a dynamic modern scene. Trendy cafes, innovative restaurants, and farm-to-table establishments offer diverse menus that celebrate both local ingredients and global influences. Indulge in the city's gastronomic evolution while savoring contemporary interpretations of classic dishes.
Athens, a city where echoes of antiquity reverberate through its streets, invites travelers to embark on a journey that transcends time. As we bid farewell to this captivating destination, we depart with a deeper connection to history and an appreciation for the vibrant present that Athens so beautifully embodies. The enchanting blend of ancient ruins and contemporary vitality makes Athens a true cultural crossroads—an emblem of humanity's capacity to evolve while honoring its past.
You may also like